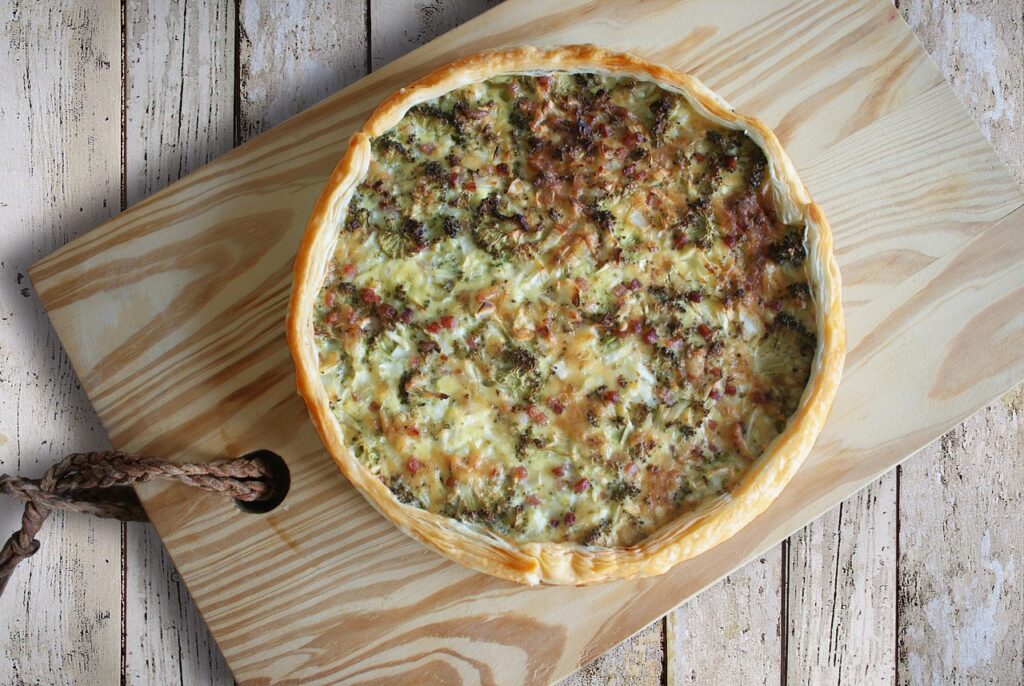 Ingredients
1 unbaked GF pie crust
2 TBSP vegan butter
½ cup chopped onion
1 ½ cups chopped broccoli
1 tsp minced garlic
1 cup cooked and diced ham
5 large eggs
½ cup water
sea salt & fresh ground black pepper
Directions
Preheat oven to 425° (F) per recipe directions.
Bake for 15 minutes, and then remove from oven and set aside.
To make the quiche:
Reduce oven temperature to 350° (F).
Warm the vegan butter in a 10″ skillet over medium-high heat.
When the vegan butter has melted, add the onion, broccoli, and garlic, and cook for 3-5 minutes, or until the onions are translucent and the broccoli is just starting to soften. Remove from heat.
In a large mixing bowl, beat the eggs and water until smooth. Season with sea salt and freshly ground black pepper.
Place the cubed ham in the par-baked pie crust cavity, and then add the broccoli and onion mixture. Use a spatula to evenly disperse the mixture over the bottom of the crust.
Pour in the beaten eggs.
Bake for 35-40 minutes, or just until the eggs have set (a little jiggle in the center is okay, the quiche will continue to set up as it cools) and a knife, when inserted into the center of the quiche, comes out clean.
Let the quiche cool for 15-20 minutes prior to serving.